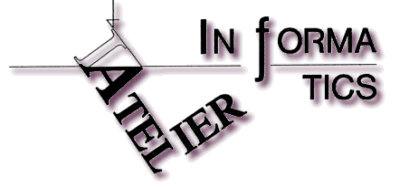 Informatics Atelier - Berlin (www.iatelier-berlin.de) is a project inspired by the idea that computer science, and its applications - however scientific a discipline - is often non-exact and closer to Art in its very nature. The NAME says it all! (Atelier = studio, n.m. (Fr.); Informatics = coined term, meaning ICT (Information & Communication Technology))

Ever since Donald Knuth's classic "The Art of Computer Programming" it has became clear that writing a program is a creative process, similar to any artistic activity. Hence it can be done in as many ways as there are software designers (programmers).

IATELIER-BERLIN is the site where information dissemination and art/design are in synergy due to a profound understanding of both. It is a connection between informatics and design, computers and art,... technical and artistic at the same time.

One of main aims of the IATELIER-BERLIN Web site is to use a computer medium for the presentation of fine art & photography on the Web, and for the articulation of artistic ideas. The medium is not only the message since the computer (and its varieties: smartphone, tablet) has its own existence: programming, hypertext, multimedia, AI, networking, telecomms, social media...

WordPress blogging platform enables integrating various other mundane topics, some of the subjects convoluting to the main website theme: ARTificial intelligence and ART, scientific and artistic.
---
Last updated: